As soon as the land of any country has all become private property, the landlords, like all other men, love to reap where they never sowed, and demand a rent even for its natural produce.
~Adam Smith, Wealth of Nations
On my bicycle ride across the West this summer, I ended up in a little lodge along the coast at a place called Lucia. This was my second night out, and came at the end of a wonderful day of enjoying the Big Sur coastline.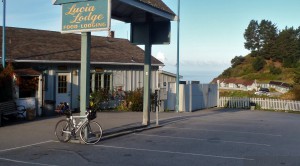 While Lucia shows up as a town on some maps, it's really not a town at all. It may have been an actual town in the past, but now all that's there is a lodge and restaurant. Seems the property has been in the same family's hands for several generations. They have a great spot – right on the coast – and they offer lodging and dining in a beautiful setting.
In many ways, it's a shining example of free enterprise, the declination brought on by nepotism, and the arrogance and sense of entitlement that "ownership" inspires all wrapped into a single stop along the highway.
If you ignore price and attitude, and just look at the place, it's a quaint little spot with a beautiful view. Of course, you're in Big Sur, so it's tough to find a spot along the highway that doesn't have a beautiful view. The food in the restaurant is OK but certainly not great – about what you'd expect in a cafe along the highway. The rooms are tiny little things cut out of a strip-style building – quaint, quite small, and very old. The room I stay in is very run down with a pretty lousy bed and plumbing that not only doesn't work right, but is in a state of "half-repair". Whoever takes care of that sort of thing will finish the job when they get around to it.
But hey, that's OK with me, my standards for motel rooms are extremely low. I'm usually happy to stay in a small-town motel that costs $35/night, knowing full-well that it's gonna be just like this.
The problem is, this room is a couple hundred dollars a night. Really. And the meals are proportionately overpriced.
It's the free market at work. This is the only lodge and dining along the highway for miles, and there will be a certain number of tourists that won't have any choice but to pay those prices. Many will book online, with high expectations for the price, and will just have to live with disappointment. Their cancellation policy is quite strict – you can't check-in until 3:00, but they don't accept cancellations after 2:00. If you show up and are outraged at the price, you're past the point you can cancel, and your card is charged, so you might as well stay.
I'm on vacation, and I'm OK with a reasonable fleecing now and again. So tonight, I'm getting fleeced – I might as well enjoy it. At least I've got a warm room to sleep in, and a beautiful view. The warm shower feels wonderful, though their wireless isn't working, (sorry, no discount for that additional insult). I do a little writing, then walk up to the lodge for an early supper.
It's warm and quaint in the cafe portion of the lodge. It's less than half full – a highway closure has dramatically reduced the tourist traffic. A couple walks in, obviously looking around for a place to sit. I listen as the waitress asks them if they're here for dinner, and they say they're probably just going to sit and have coffee. They're an older couple, with a Scandinavian accent. In keeping with their culture, they're extremely polite as the waitress tells them they can get coffee at the general store next door, making it plain she doesn't want them taking up dining room space if they're only going to spend the price of coffee.
It seems everyone who works here is "part of the family". They've developed an arrogance over the years, and a sense of entitlement to use this little piece of paradise they "own" to take every possible penny from every possible traveler. They've been blessed with a wonderful place in a beautiful location, but their connection to this wonderful little corner of paradise has been twisted. They don't seem to see it as a gift and blessing that also allows them to make a living. Instead, I get the feeling they see it as a cash cow to milk for all it's worth.
Many years ago, when I was immersed in Corporate America, I sat in a meeting where the CEO was railing at his management team about poor profit performance. It was a smaller company by today's standards, and there was clearly frustration around the table at economic conditions that were making it difficult to get the profit margins we had seen in previous years. The CEO was more frustrated than any of us, and he slammed his fist on the table as he stated with absolute conviction that, "we have a moral right to make a profit."
I think he truly believed those words when he spoke them. He was a decent and "good" man, kind in many ways. He had built a profitable enterprise with many years of hard work. I think he truly believed that he was "entitled" to make a profit – it was his moral right as a hard-working entrepreneur.
At the time I was stunned, but over the years I've come to accept this attitude as pretty darned common in the culture and economy we've created. We've evolved (or devolved perhaps) back toward the feudal mentality that was common before the Enlightenment period when our country was conceived and born. Back in those olden days when there were Lords – those with property and wealth, and there were the rest of the common chattel – those who had to just eek out a living at the pleasure of the Lords.
We've come to believe that as we build wealth and "own" things, our rights and privileges increase proportionately. Especially as it relates to ownership of land and property. "Owning" property makes me almost divine, as a little piece of Creation is "mine" to control and do whatever I want with. Such power!
The Lucia family "owns" this wonderful little corner of creation. A tired old couple from another country is enjoying our country's beautiful coastline, and wants to sit by a warm fire and enjoy a cup of coffee and maybe a little desert. There are those of us in the room who'd love to sit by them and share their story. Their presence will help fill the mostly empty room, and warm it with human kindness. The "owner" sees none of this – she sees only a set of pockets, and weighs only how much silver she can move from their pocket to hers.
I'm conflicted by this, as I suspect any American reader would be. On the one hand, I absolutely support free enterprise, as well as the marketplace pricing and property ownership principles that underpin it. At the same time, it's clear to me that there's a selfish streak inside most of us that will allow lust for profit to rapidly turn the steering rudder of our life toward tyranny under the yoke of ownership.
In many cases, the free market will weed out those who succumb to that lust, as somebody else will just build a place down the road that offers a better product at a lower price. Unfortunately, this process is often corrupted by regulation that protects those who already have the property and ownership. In this case, I have no idea why someone else hasn't put up a couple double-wide trailers down the road to take advantage of the bonanza, but have to assume there must be some regulation that prevents this, but has grandfathered in the Lucia property.
I'm further conflicted here because this is a family operation. It's a business that a family runs together. I love this. I run a family business with my son. I write and lament often about the loss of the family business, about how big companies have driven the small family operation out of existence. In my own life, I'm usually happy to pay more to do business with local merchants. I'll always choose a locally owned restaurant over a chain – the prices are comparable, the service is usually fine, and I'm supporting a local family rather than some big multi-national conglomerate. I'll always look for the hardware store rather than the big box for the same reason. I avoid Walmart's with a passion.
Here's this little family operation, and I want to support 'em. It appears they have 3 generations of folks working at the place. It may be that as their family has grown, they've continued to simply expect the business to generate bigger and bigger piles of cash to support more and more people, and the way they've done that is to just keep raising prices and spending as little as possible on upkeep.
Every farm family across the country has faced this issue over the last 2 or 3 generations. Increasing farm productivity has meant that prices for farm goods (adjusted for inflation) have dropped continually for dozens of years. An acre of farm land supports fewer and fewer farmers each year. As farm families have grown up, the vast majority of the kids have had no choice but to leave for the city to find work – the farm simply can't support them.
The difference may be that in the case of a place like Lucia, they're not producing a commodity like beans where "the market" will define the price. In Lucia, they can keep raising their prices, because demand for a little place to stay right there on the coast is high enough to support their continued increasing prices. The only way a "market" would start to set their price for them is if a competitor opened down the road.
In many ways, it is like the farm analogy I referred to earlier. On the family farm, the dollars of profit from the operation will support a dwindling number of family member, because of dramatically increased productivity. The Lucia clan appears to have many family members that they're trying to keep employed from an operation that is essentially locked into a particular size, so net "productivity" may have decreased over the years, and they've correspondingly continued to increase the price.
The outcome seems fairly predictable. Either someone will offer competition, which will drive the price down and force better service, lower prices, and fewer family members on the payroll, or they'll collapse under their own weight, as bad reviews slow the flow of folks willing to endure poor service at high prices, and their continued low efficiency grinds things to a halt.
Of course, I'm conjecturing all of this off a very few observations. For all I know they're business is great now and will continue to be great in the future regardless of what appears to be poor service and efficiency. But it strikes a real chord of contemplation inside me as I sit in the dining room. I'm such a huge fan of small, family run businesses, and here's an example of one that I'm not a huge fan of. Ten years from now, this place might be gone, and some big multi-national hotel will be on this site, and I'll lament the loss of the little Lucia Lodge, forgetting the poor service and efficiency.
There's a balance in all this. There's no perfect solution to anything. With any way of doing things, there'll be both bonuses and penalties. I need to realize this whenever I fall into the natural human tendency to long for "good old days" or "that better way" I know about. The Lucia family isn't perfect, and they could use some lessons in customer service for sure. They're prices are too high by a lot, and they appear to have been blinded by the arrogance of "ownership". But they're a family business trying to make a living in a remote area, and I'm OK giving 'em my business tonight.